Fuji TV opened an official website for an anime film adaptation of Kashiwaba Sachiko's Misaki no Mayoiga (Mayoiga of the Ridge) novel, revealing main staff, a teaser visual, and teaser promotional video. Set to premiere in 2021, the anime film is one of three works for the Zutto Ouen. Project 2011+10…, commemorating the tenth anniversary of the 2011 Tohoku earthquake and tsunami.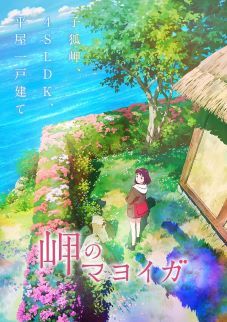 Teaser

Synopsis
17-year-old Moeka, who lost her parents, and Yurie, seeking to escape her violent husband, got off at a Kitsunezaki station one day. The great earthquake and tsunami had changed their destinies. Their lives were saved, but they were perplexed when asked about their identities at an evacuation site. It was an old woman named Kiwa Yamana who lent them a helping hand. From that day, Yurie was known as Yui, Moeka as Hiyori, and together with Kiwa, the three women began a wonderful communal life together at the old house "Mayoiga" overlooking the sea.
Staff
Director: Shinya Kawatsura (Non Non Biyori, Sakurada Reset)
Script: Reiko Yoshida (Aria the Animation, Kimi to, Nami ni Noretara)
Studio: David Production
Kashiwaba originally serialized the novel from May 2014 to July 2015 in Iwate Nippo's Nippo Junior Weekly. Kodansha published a revised version in September 2015 with artworks by Yukiko Saito. Misaki no Mayoiga won the 54th Noma Children's Literature Award in 2016.
Sources: Official site, Comic Natalie