The official website for Yuri!!! on Ice Gekijō-ban: Ice Adolescence (Yuri!!! on Ice the Movie: Ice Adolescence), the anime film for the Yuri!!! on Ice franchise, began streaming a teaser trailer for the film on Thursday. The staff showed the video at a screening event for the original television anime series in January 2019, but had not uploaded the video online before now.
The official Twitter account for the film also posted an English statement on the film's progress, which states the film production is "still ongoing with the aim of further enriching the film," but the staff stated they have not yet "reached the stage where we can announce the release date."
The staff had announced in September 2019 that they had delayed the film from its 2019 opening date. The announcement at that time noted that the film was delayed "in order to substantially scale up the content more than originally planned."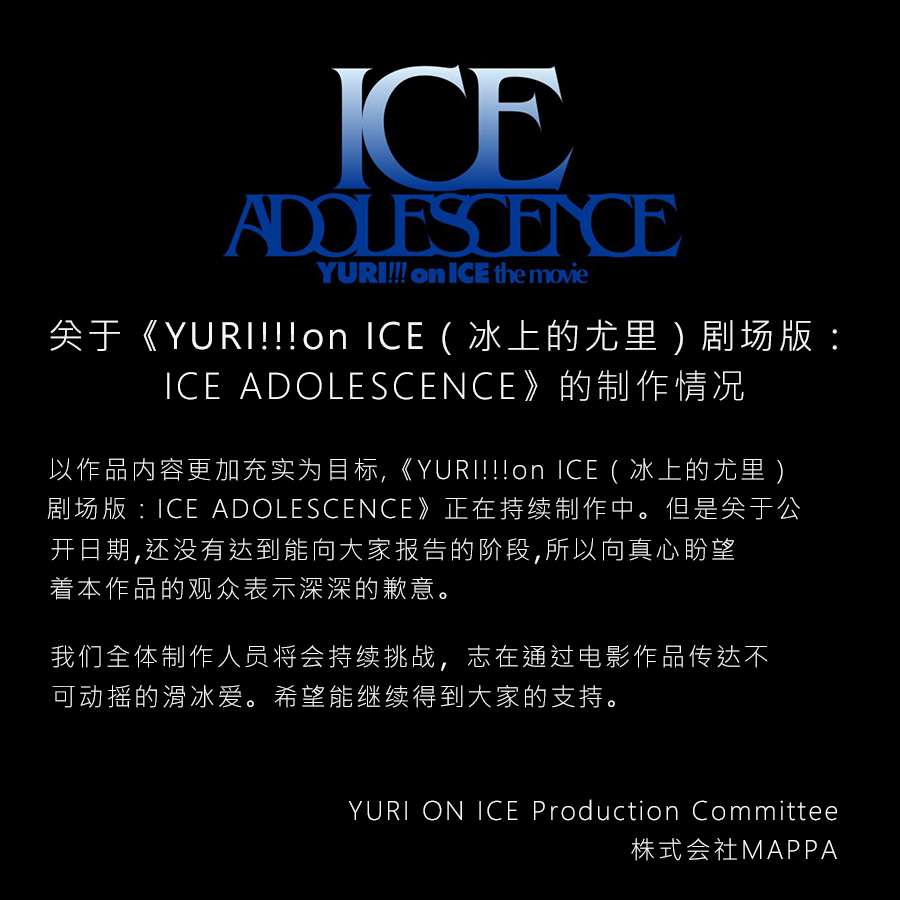 The film features the following returning staff:
Original Concept: Mitsurou Kubo x Sayo Yamamoto
Direction and Story: Sayo Yamamoto
Screenplay and Original Character Design: Mitsurou Kubo
Figure Skating Choreography: Kenji Miyamoto
Character Design: Tadashi Hiramatsu
Music: Taro Umebayashi, Taku Matsushiba
Music Producer: Keisuke Tominaga (PIANO)
Animation Production: MAPPA
The staff announced the film in April 2017. The original 12-episode television anime series premiered in Japan in October 2016.
Sources: Yuri!!! on Ice franchise's Twitter account (link 2), Yuri!!! on Ice the Movie: Ice Adolescence film's website