On Aug 2, "ABEMA Anime Channel" revealed a new trailer and a key visual for Kimetsu no Yaiba: Mugen Ressha-Hen (Kimetsu no Yaiba: Infinity Train) movie. The movie which is a direct sequel to the Kimetsu no Yaiba TV anime is set to release on October 16 in Japan.
【本予告&主題歌解禁!】
10月16日(金)公開 劇場版「鬼滅の刃」無限列車編の本予告を公開しました!

さらに主題歌情報も解禁!本予告内で音源も初公開しました!

主題歌:LiSA「炎」(SACRA MUSIC)
作詞:梶浦由記、LiSA
作曲:梶浦由記
編曲:梶浦由記

https://t.co/cyuNV5Sn9y #鬼滅の刃 pic.twitter.com/7wkVPr30lM

— 鬼滅の刃公式 (@kimetsu_off) August 2, 2020
It was also revealed that LiSA, who sang the TV anime's opening theme song "Gurenge", will be in charge of the theme song "Homura" (Flame) for the movie.
LiSA and Yuki Kajiura wrote the lyrics, and Kajiura also composed and arranged the music. Both the trailer and the visual features the tagline, "With that blade, slice off the nightmares."
The main staff members of the television anime are returning for the sequel movie.
The main cast Natsuki Hanae (Tanjirō Kamado), Akari Kitō (Nezuko Kamado), Hiro Shimono (Zenitsu Agatsuma), andYoshitsugu Matsuoka (Inosuke Hashibira) and Satoshi Hino (Kyōjurō Rengoku)from the TV Anime will be returning in the movie.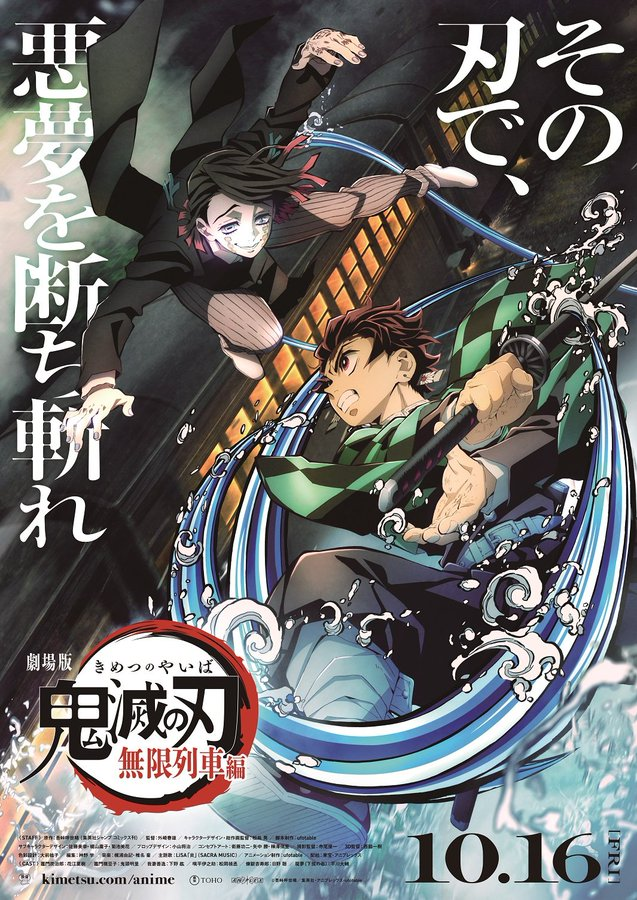 Synopsis
Tanjiro Kamado and his friends from the Demon Slayer corps accompany Kyōjurō Rengoku, the Flame Hashira, to investigate a mysterious series of disappearances occurring inside a train. Little do they know that Enmu, one of the Twelve Kizuki, is also on board and has prepared a trap for them.
Koyoharu Gotouge's Kimetsu no Yaiba manga inspired a television anime that premiered in April 2019, and aired its 26th and final episode last September.
The manga debuted in Shueisha's Weekly Shonen Jump magazine in February 2016, and ended on May 18. Shueisha shipped the manga's 21st compiled book volume on July 3. With this new volume, the franchise has more than 80 million copies in circulation.–>
Source: Kimetsu TV Mugen Ressha-Hen Shin Jōhō & Shudaika Happyō Special livestream, Kimetsu no Yaiba's Twitter account