The December 2020 issue of Melody magazine announced a television anime adaptation of Kumiko Saiki's Kageki Shoujo! manga series on Wednesday. Hakusensha also opened an official website, revealing the staff and a teaser visual (pictured). The anime series will air in 2021.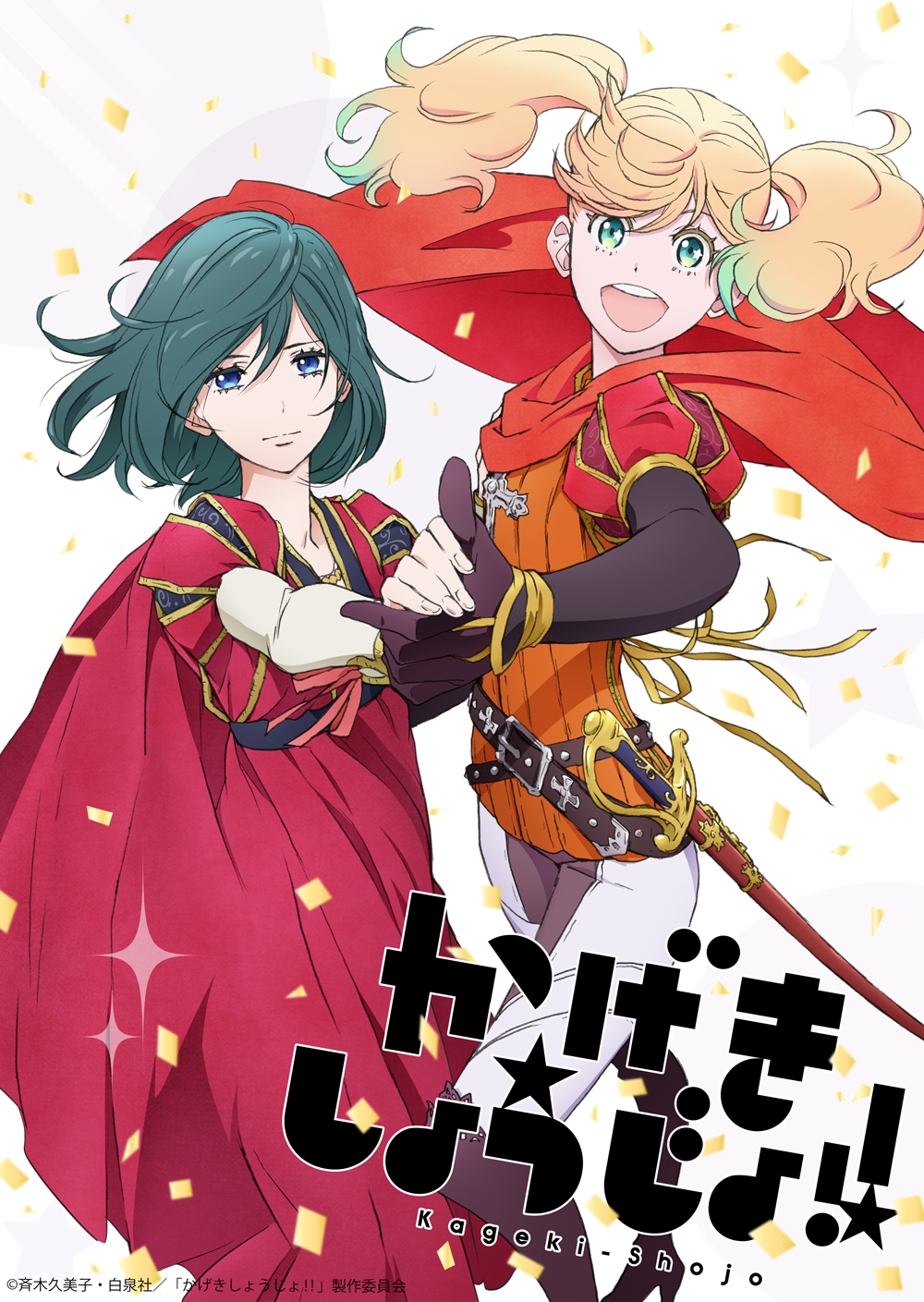 Staff
Director: Kazuhiro Yoneda (Gleipnir)
Series Composition: Tadashi Morishita (Mohouhan live-action TV special)
Chief Animation Directior: Eriko Iida (Yamada-kun to 7-nin no Majo), Akira Takada (Seishun Buta Yarou wa
Bunny Girl Senpai no Yume o Minai), Tomoko Fukunaga (Miira no Kaikata)
Character design: Takahiro Kishida (Haikyuu!! To the Top)
Sub-character design: Eriko Iida, Akira Takada, Takao Maki (Youjo Senki)
Art Director: Hiromichi Tanigawa (Stella no Mahou)
Color Design: Kouji Sakagamii (Mahou Shoujo Nante Mou Ii Desu kara.)
Prop design: Miyuki Koga (Zoku Touken Ranbu: Hanamaru chief animation direction, Carole & Tuesday design assistance)
Director of Photography: Yasuhiro Asagi (Babylon)
Editing: Daisuke Imai (Great Pretender)
Sound Director: Yukio Nagasaki (Houseki no Kuni)
Music: Tsuneyoshi Saitou (Soukyuu no Fafner: Dead Aggressor – Exodus)
Music Production: King Records
Studio: Pine Jam
Synopsis
Founded in the Taisho era, the "Red Flower Opera Company" attracts people's hearts across generations on a beautiful and gorgeous stage created only by unmarried women. The 100th generation students who have passed through a high magnification and entered the "Red Flower Opera Music School" to develop the human resources. Sarasa Watanabe, an innocent girl with a height of 178 cm who longs for "Oscar-sama." Ai Narada, a former national idol who is indifferent to everything, both dreams and friends. The music school life full of hope and conflict, where everything is disjointed, is about to begin!
The anime will cover events beginning with the original manga, which was serialized in Shueisha's Jump X from May 2012 to October 2014. The 14 chapters were later compiled into two volumes, which Hakusensha re-released as a single volume titled Kageki Shoujo!! Season Zero in March 2019. Seven Seas Entertainment licensed the manga in English in April, with a print release scheduled for November 24.
Saiki's sequel manga, Kageki Shoujo!!, has been serialized in Melody since February 2015. The ninth compiled volume was released on March 5, and the tenth volume is scheduled to go on sale on November 5.
Kageki Shoujo!! was nominated for best Shoujo in the 44th Kodansha Manga Awards this year.
Source: Twitter: @kageki_anime, https://kageki-anime.com/, Comic Natalie