Shingeki no Kyojin (進撃の巨人) The Final Season which is set to broadcast in October 2020 has revealed a PV, Staff, Staff Comments and the Cast.
♦ PV
♦ STAFF
Original work: Isayama Hajime (Separate volume Shonen Magazine serialization / Kodansha)
Director: Yuichiro Hayashi
Series composition: Koji Seko
Character design: Tomohiro Kishi
General drawing director: Daisuke Niinuma
Director Chief: Shishido
Effect animation director: Satoshi Sakai, Taichi Komata
Color design: Ayako Suenaga
Art director: Kazuo Ogura
Screen design: Yusuke Awawa
3DCG Director: Takahiro Kamizono
Director of Photography: Shigeki Asakawa
Edit: Masato Yoshitake
Sound Director: Masafumi Sanma
Music: Hiroyuki Sawano / KOHTA YAMAMOTO
Sound effects: Naoto Yamatani (sound box)
Sound production: techno sound
Animation producer: Rito Matsunaga
Production: MAPPA
♦ CAST
Eren Yeager: Yuki Kaji
Mikasa Ackerman: Yui Ishikawa
Armin Arlert: Marina Inoue
Connie Springer: Hiro Shimono
Sasha Blouse: Yuu Kobayashi
Historia Reis: Mikami Shiori
Jean Kirstein: Kisho Taniyama
Reiner Braun: Yoshimasa Hosoya
Hanji Zoe: Park Romi
Levi: Hiroshi Kamiya
Zeke: Koyasu Takehito
♦ STAFF comment
Hajime Isayama 
(Original author)
"Shingeki no Kyojin" will be animated to the end.
I would like to thank the readers for their support so far.
The series has been together for over 10 years, and I have been together for a long time, but I thank Director Araki, WIT STUDIO, and the drawing corps for all the memories that made me happy! I would like to continue the
animation "Attack on Titan" with Director Hayashi and other people of MAPPA, and make wonderful memories again!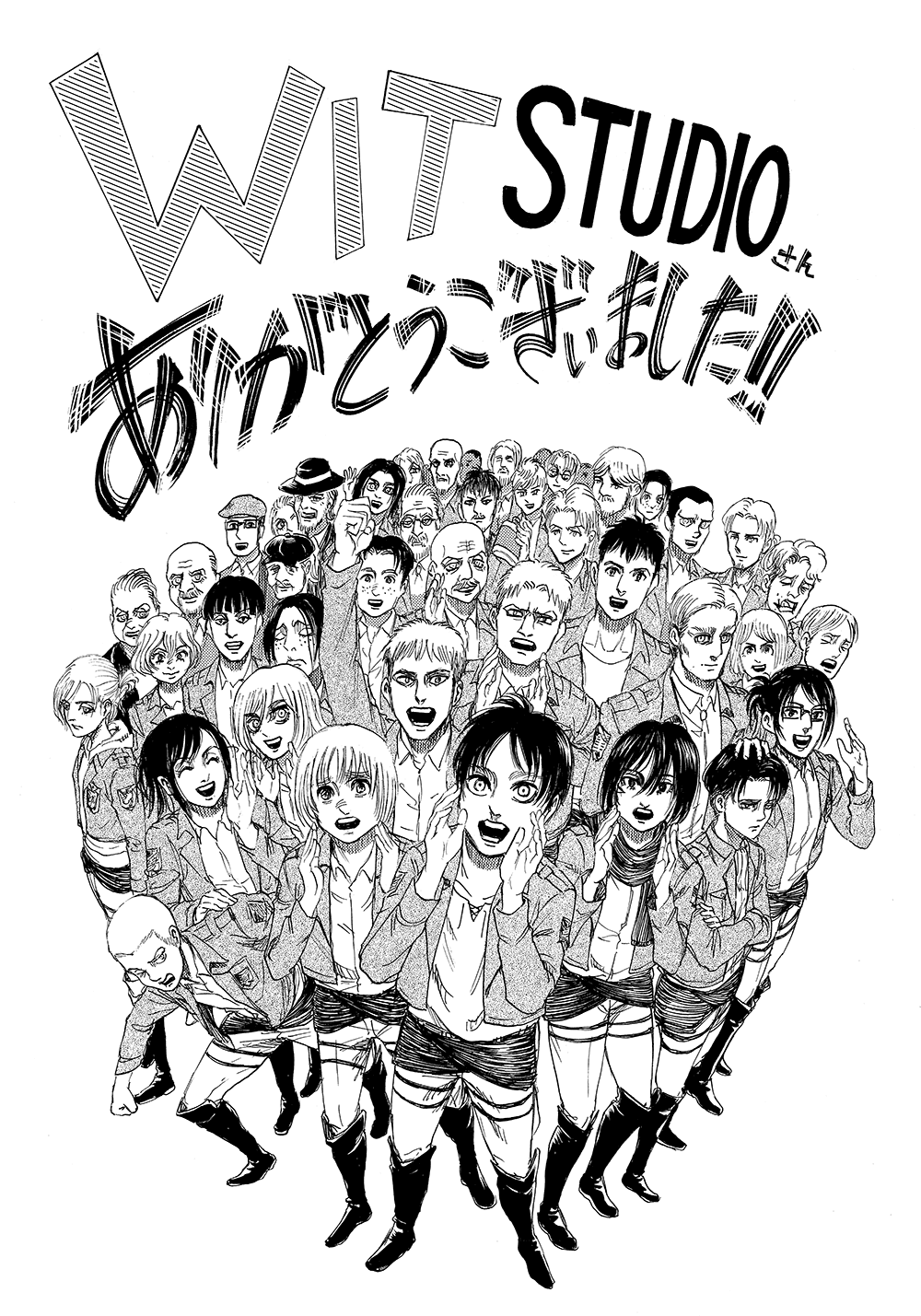 Yuichiro Hayashi 
(Director of The Final Season)
From this final season, I will be in charge of the direction.
Participation in the middle of the battle, and since it is such a big original, it is very exciting.
With the full cooperation of wit and Director Araki, we have proceeded with the preparations so far.
The quality of the series so far, and above all, the energy of the staff put in there.
We will take them over as much as possible and do our best!
Please Look forward to the final Attack on Titan!!
Tetsuro Araki 
(Director of Season1 / General Manager of Season2-3)
Our important anime "Attack on Titan " has been taken over by the wonderful team of MAPPA and Yuichiro Hayashi.
We have been exchanging information and having meetings with each other for a long time.
There is no doubt that the finish will be fulfilled!
We are really looking forward to the continuation of Ellen's journey!
Manabu Otsuka 
(MAPPA Representative Director)
"Attack on Titan" loved by many fans. All the studios are enthusiastic about inheriting this work from great studios and great creators, and that it is a season called FINAL.
I'd like to fully advance and make the final battle and enjoy myself.
Takeshi Wada 
(President and CEO, WIT STUDIO)
The Attack on Titan The Final Season has finally been announced!!
It took a long time to prepare, so I'm really happy to have reached this point.
The Final Season, where the best team animates the best original work on the foundation we made.
I have only expectations. Everyone, please look forward to it!!
♦ Special Theatrical Anime "Shingeki no Kyojin~Chronicle~"
A special theatrical anime film, "Attack on Titan~Chronicle~", a re-edited version of the past Season 1~3, is also confirmed to open in Japan's theatres on 17th July 2020.
♦ PV
Source: Shingeki no Kyojin's Official Website
---
Want to stay up to date with the latest news and information from Japan?
Install our Android Application, Otaku Shinbun – An all in one place for every news from Japan.