The official Twitter account for Wit Studio's original television anime series Great Pretender announced that "Case 4" (episodes 15-23) of the anime will premiere on Netflix in Japan on September 21.
#GREATPRETENDER 【CASE4:Wizard of Far East(極東の魔法使い)】#Netflix 独占先行配信の開始日が9月21日(月・祝)に決定しました📡

舞台は上海と東京‼️児童売買を生業にする『朱雀連合会』を標的に、息詰まる騙し合いの応酬が展開します。謎に包まれてきた、ローランの過去も…⁉️#グレプリ pic.twitter.com/F4bE86EKGh

— アニメ「GREAT PRETENDER」(グレートプリテンダー)公式 好評放送中! (@GrePre_anime) August 19, 2020
The account teases that "Case 4," titled "Wizard of Far East," will take place in Shanghai and Tokyo. The story will feature the "Suzaku Association," a group engaged in child trafficking, and Laurent's past.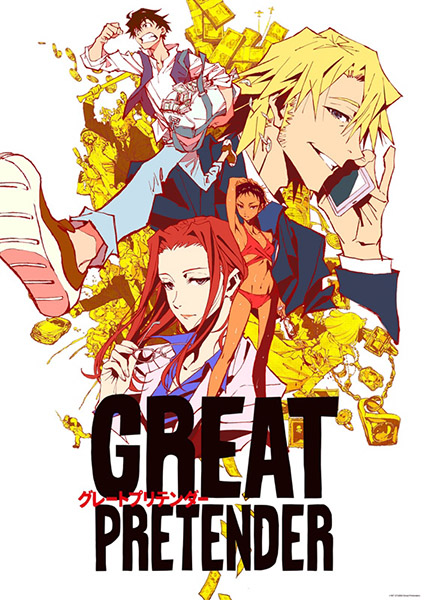 The anime's "Case 1" (episodes 1-5) premiered on Netflix in Japan with English subtitles on June 2, followed by "Case 2" (episodes 6-10) on June 9 and "Case 3" (episodes 11-14) on June 16. Netflix is streaming the anime exclusively worldwide, but it is streaming in Japan ahead of the rest of the world.
The anime premiered on July 8 on Fuji TV's +UItra programming block. The anime will run for two cours (quarters of a year) for a total of 23 episodes.
Hiro Kaburagi (Hozuki's Coolheadedness, My Little Monster, 91 Days) is directing the series at Wit Studio. Yoshiyuki Sadamoto (Evangelion, FLCL) is designing the characters. Ryota Kosawa (Parasyte live-action film, Always: Sunset on Third Street live-action film series) is writing the scripts, and Yutaka Yamada (Tokyo Ghoul anime franchise, Vinland Saga) is composing the music. Maiko Okada is the producer.
Yamada composed the opening theme song "G.P." The late Queen singer Freddie Mercury's cover of The Platters song "The Great Pretender" is the anime's ending theme song. This is Japan's first television anime to feature a song by Mercury as its theme.
Artist Daichi Marui launched a manga adaptation of the anime on Mag Garden's Mag Comi website and LINE Manga service on June 10. The first compiled book volume of the manga shipped on July 10.
Sources: Great Pretender anime's website and Twitter account