The TV anime "My Teen Romantic Comedy SNAFU Climax" (やはり俺の青春ラブコメはまちがっている。完), the third and final season of the series, is confirmed to premiere on 9th July 2020. A new visual and PV has also been revealed.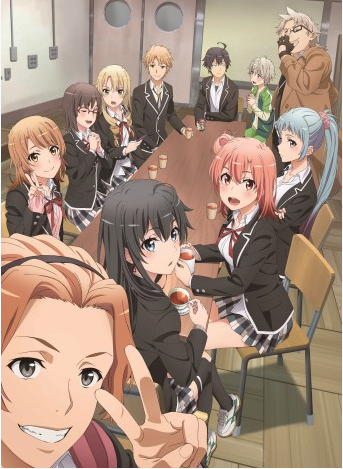 The anime was originally announced for this April and has been delayed due to the concerns of the coronavirus disease.
The opening theme song is "Sprout Rain"(芽ぐみの雨) by Nagi Yanagi (やなぎなぎ) and the ending theme song is "Purity of Diamonds" by Yukino Yukinoshita (CV: Saori Hayami) & Yui Yuigahama (CV: Nao Toyama).
♦ PV
♦ Synopsis
The series follows Hachiman Hikigaya, who is forced by his teacher to join the school's service club, working with two girls who have their own personal issues to offer help and advice to others while dealing with their inner conflicts.
♦ Broadcast
TBS: July 9th, every Thursday at 1:58 am-
MBS: July 9th, every Thursday at 2:30 pm-
CBC: July 15th, every Wednesday at 2:35 am-
SBS: July 21st Sundays every Tuesday at 2:14 am-
BS-TBS: July 11th every Saturday at 2:00 am-
♦ Staff and Production
Original Works: Wataru Watari (渡航)【Shogakukan's Gagaga Bunko】
Original Character Design: Ponkan8 (ぽんかん⑧)
Director: Kei Oikawa (及川啓)
Series Composition: Keiichiro Ochi (大知 慶一郎)
Character Design: Yuichi Tanaka (田中雄一)
Animation Studio: feel.
♦ Cast
Hachiman Hikigaya (比企谷八幡) – CV: Takuya Eguchi (江口拓也)
Yukino Yukinoshita (雪ノ下雪乃) – CV: Saori Hayami (早見沙織)
Yui Yuigahama (由比ヶ浜結衣) – CV: Nao Toyama (東山奈央)
Iroha Isshiki (一色いろは) – CV: Ayane Sakura (佐倉綾音)
Source Links:
---
Want to stay up to date with the latest news and information from Japan?
Install our Android Application, Otaku Shinbun – An all in one place for every news from Japan.
---