A new anime adaptation for the 90's popular manga, "Dragon Quest: Dai no Daibouken" has been announced.
It will broadcast from October 2020 on TV Tokyo affiliates.
♦ PV
A new PV and an extended look have also been revealed.
— ワノ国 | WANO 🎴🌊🗻🌸⛩️🏴‍☠️ (@NoxDRaz) May 27, 2020
♦ Cast
The cast of the anime "Dragon Quest: Dai no Daibouken" has also been decided!

Atsushi Tanezaki as the main character, Dai 
Toshiyuki Toyonaga as the Pop
Mikako Komatsu as the Maam
Saori Hayami as the Leona
Takahiro Sakurai as the Avan
Yuki Kaji as Hyunkel
Comments from Atsumi Tanezaki, the role of Dai
The "Dai's Great Adventure" that I saw when I was a kid is so full of in my mind, so I was impressed by the passion for the work and the new "Dai's Great Adventure". I would like to make I will do my best to make it fun for both first-timers and those who had the same feeling at the time.
Comment by Toshiyuki Toyonaga, role of Pop
Dai, Dai, Daisuki's big adventure.
Moreover, I never thought that the day would come when I could play pop.
When I was a teenager, I would like to teach myself that I was indulging in many laps.
"You will play pop in the future."
Perhaps you'll drip your nose from both noses while saying, "Oh yeah!"
We will perform as hard as we can, whether it's uncool, eccentric, or not.
Medlower!!
Comment by Mikako Komatsu on the role of Maam
A world that everyone admired, characters that encouraged everyone, a story that everyone was emotionally moved. I am so honored to be involved in a work that is packed with everything that can be a bible in life. I want to put my soul into the voice of Mamu's way of life! As a viewer, I'm looking forward to "Dai's Great Adventure" that will be recolored again!
Comment from Saori Hayami on Leona's role
I feel the joy of being involved in this work, which is loved by many people, and I am also nervous.
While fully enjoying the dignified and sometimes playful Leona-san,
I would like to have a great time dubbing with the feeling of going on a big adventure with the cast and staff. Please look forward to the broadcast!
Comment from Takahiro Sakurai as Avan
My name is Takahiro Sakurai, and I am acting as Avan. The depth of thought and the sense of distance between people are very mature, and it is a character that is synonymous with "a talented hawk hides its nails." He was a person who learned how to draw strength. Nostalgic for our generation, I think that people in their teens and twenties can enjoy the enjoyment of the play. Let's embark on a journey of a great adventure with the die.
Comment by Yuki Kaji on Hyunkel's role
No way, I could be involved as a voice actor in that "Dai no Daibouken" … and as a Hyunkel …! It's not an exaggeration, it feels like a dream. I'm really happy When I was a kid, I read my manga with heartfelt excitement, and I was absorbed in managing the characters. Perhaps the "armorization (Amdo)!" Of that was used for the audition. (Laughs) I will perform with responsibility and pride. Stay tuned for the broadcast!!
♦ Staff
Series Director: Kazuya Karasawa (World Trigger episode director)
Series Composition: Katsuhiko Chiba (Baby Steps)
Character Design: Emiko Miyamoto (Mahoutsukai Precure!)
Art Director: Ayaka Fujii (Dororo background art)
Music: Yuuki Hayashi (Boku no Hero Academia)
Color Design: Aya Mori (One Piece color setting)
Studio: Toei Animation
♦ Games
A new "Dragon Quest: Dai no Daibouken Xross Blade" Card Game has been announced for 2020.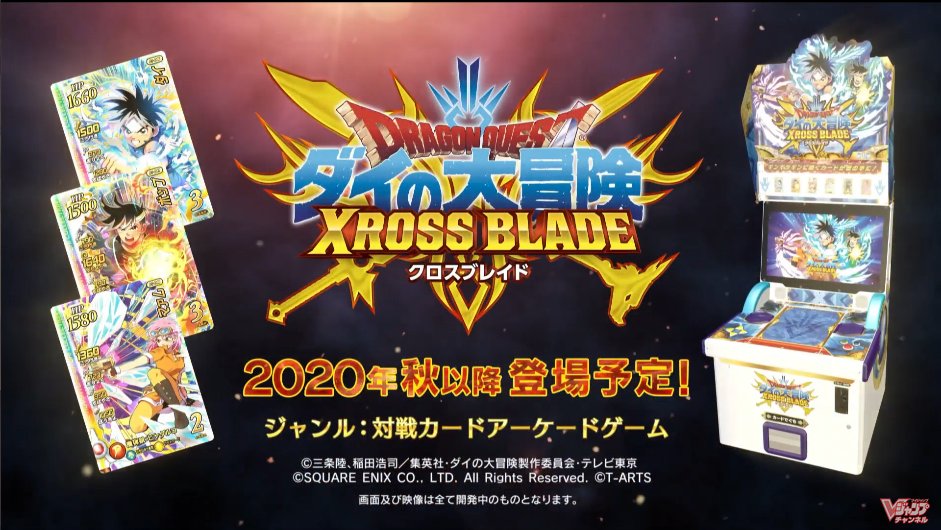 A new videogame for Home Consoles Dragon Quest: Dai no Daibouken Infinity Strash has also been announced.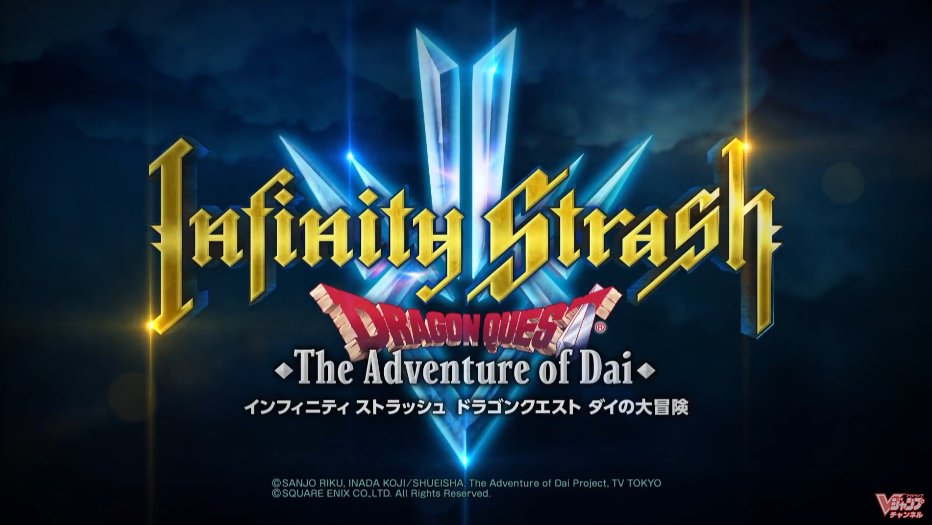 In addition to this, a new RPG mobile game "Dragon Quest: Dai no Daibouken Tamashii no Kizuna" has also been announced, set to release in 2021.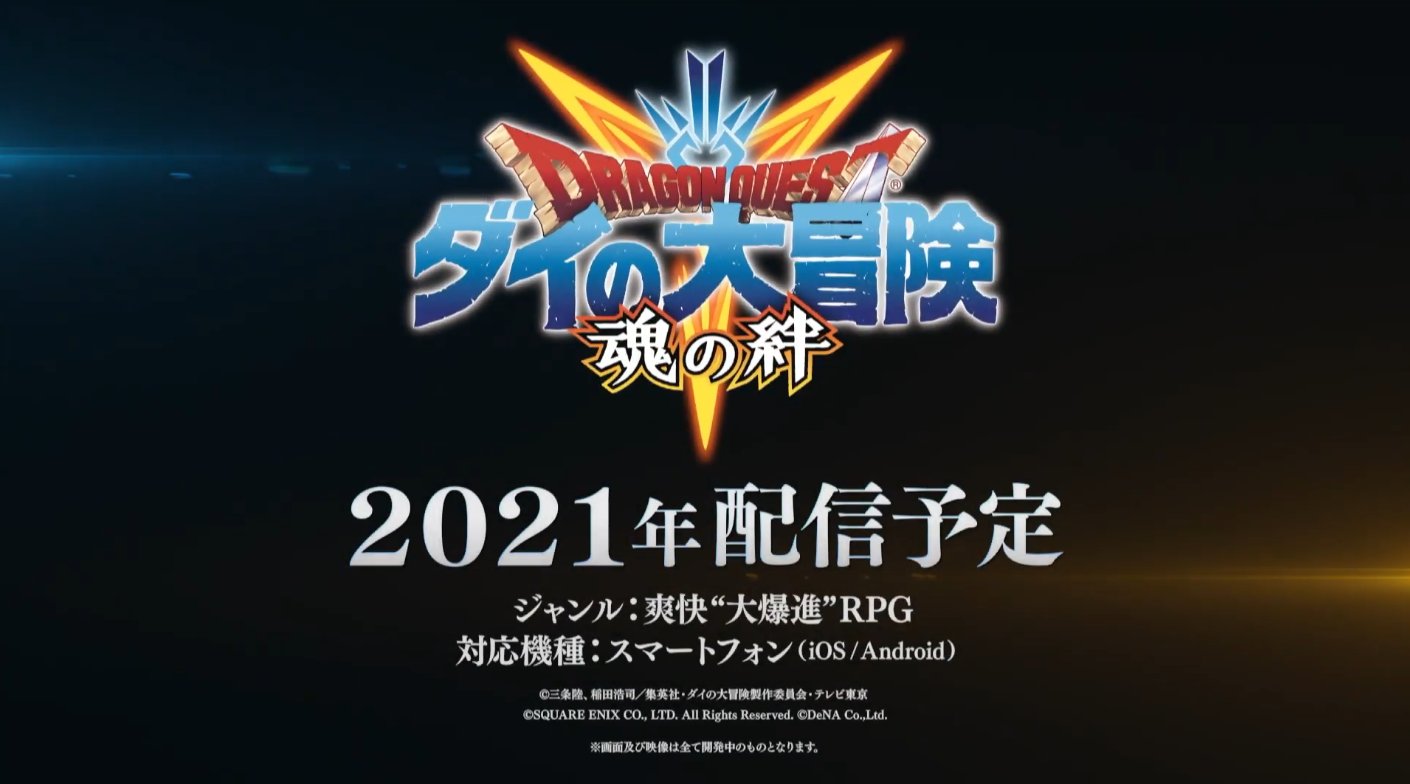 Dragon Quest: Dai no Daibouken (ドラゴンクエスト ダイの大冒険, ) is a Japanese manga based on the video game series of the same name. It was written by Riku Sanjo and illustrated by Koji Inada and serialized in Shueisha's Weekly Shōnen Jump from October 1989 to December 1996.
The manga was adapted into an anime series, produced by Toei Animation and broadcast on TBS from July 1991 to July 1992. It is the second anime adaptation based on the Dragon Quest franchise after Dragon Quest: Legend of the Hero Abel. A new anime adaptation has been announced and is set to premiere in fall 2020.
Dragon Quest: Dai no Daiboken is one of the Weekly Shōnen Jump's best-selling manga series of all time, with 50 million tankōbon volumes copies sold.
---
External Links:
Official Site
Official Twitter
---
Want to stay up to date with latest news and information from Japan?
Install our Android Application, Otaku Shinbun – An all in one place for every news from Japan.