Aniplex opened an official website for the Japanese dub of Mo Dao Zu Shi (Grandmaster of Demonic Cultivation) on Saturday, Aug 22, revealing a teaser promo and key visual.
Teaser PV
Note: The video is region-locked; click here for an alternative link.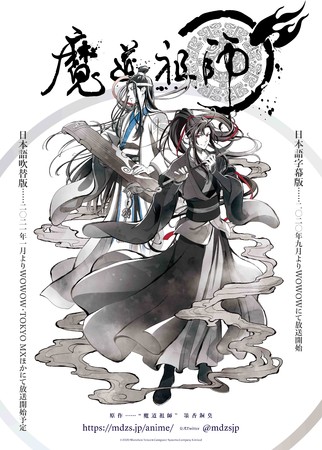 The first two seasons of the donghua will air in Japan under the title Madou Soshi with subtitles on WOWOW beginning September 9 and November 4, respectively. The Japanese dub—produced by Aniplex and Sony Music Solutions—will premiere on WOWOW and Tokyo MX in January 2021. Whether or not the January dub broadcast will include the second season has not been specified.
Synopsis
Xian: the state of immortality that all cultivators strive to achieve. However, there is a dark energy that lies underneath—the forbidden Mo Dao, or demonic path. Through an unfortunate series of tragedies, this is the path that cultivator Wei Wuxian experiments with during his teachings. His rise in power is accompanied by chaos and destruction, but his reign of terror comes to an abrupt end when the cultivation clans overpower him and he is killed by his closest ally.
Thirteen years later, Wei Wuxian is reincarnated in the body of a lunatic and reunited with Lan Wangji, a former classmate of his. This marks the beginning of a supernatural mystery that plagues the clans and threatens to disrupt their everyday life.
Mo Dao Zu Shi follows these two men on their mission to unravel the mysteries of the spiritual world. Fighting demons, ghosts, and even other cultivators, the two end up forming a bond that neither of them had ever expected.
Produced by B.Cmay Pictures and Tencent Penguin Pictures, Mo Dao Zu Shi adapts Mo Xiang Tong Xiu's Chinese web novel of the same name, which was serialized from 2015 to 2016. The 15-episode first season streamed on Tencent Video from July to October 2018, followed by an eight-episode second season from August 3 to August 31 last year. A third season is scheduled for 2021, and a chibi spin-off featuring 30 five-minute episodes began streaming on July 31.